🔥🔥 HOT NEW RELEASE 🔥🔥
Are you ready to have your mind blown?!! All The Lies by Rina Kent is LIVE!! Find out what happens when the most popular girl loses her memory and becomes a nobody. #OneClick today!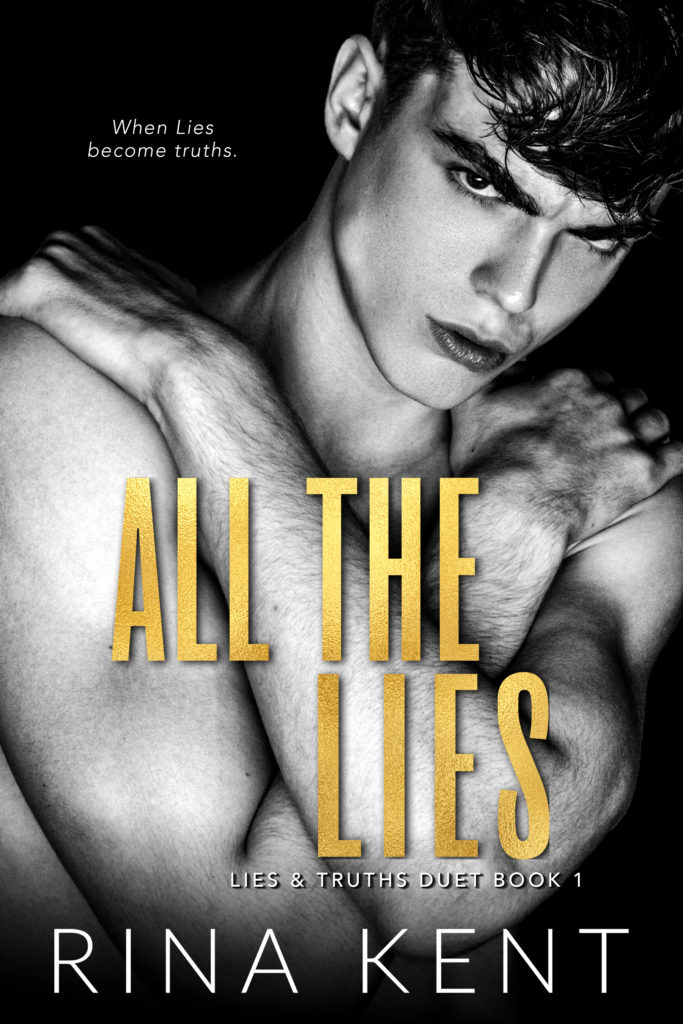 Blurb
When lies become the truth.
My name is Reina Ellis.
Popular.
Beautiful.
Untouchable.
Problem is, I remember none of it.
His name is Asher Carson.
Gorgeous.
Silent.
Dark.
Oh, and my future husband.
He has three rules for me:
I'll bow.
I'll break.
I'll pay for what I've done.
Problem is, I don't remember what I've done, but I have a clue.
There was a fire.
A dead girl.
And I was there.
All The Lies is a dark new adult book that contains dubious situations some readers might find offensive and/or triggering. If you're looking for a hero, you won't find him in Asher Carson. Please don't read if any of that bothers you.
All The Lies is part of a duet and is NOT standalone. The entire duet will be released two weeks apart.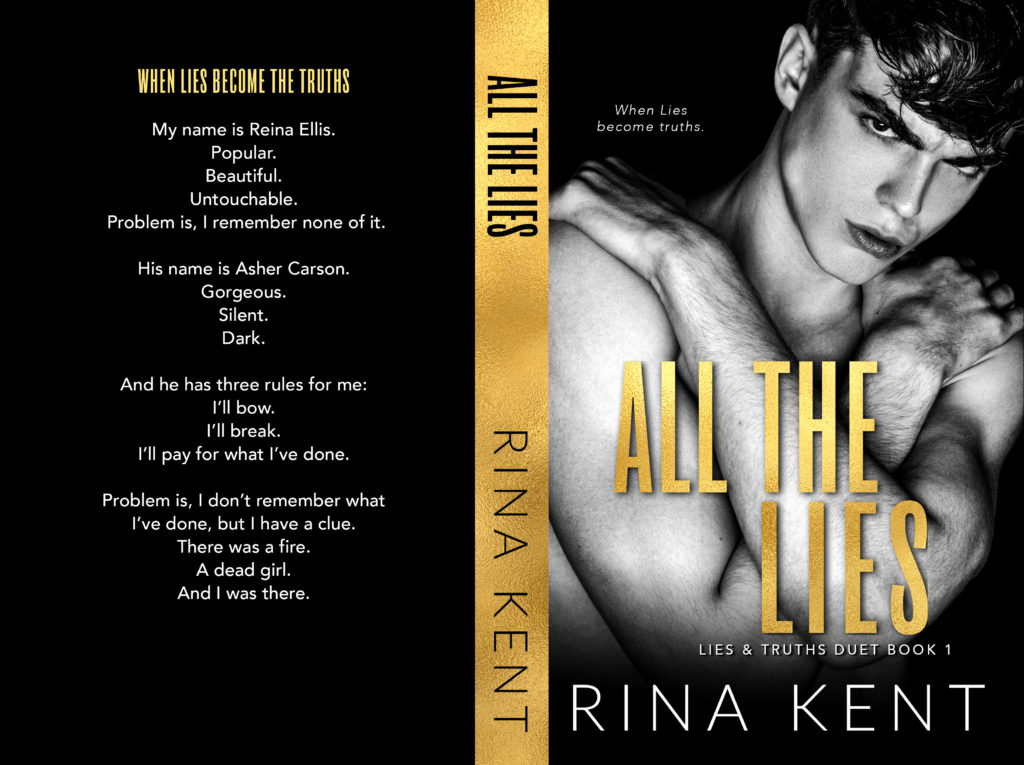 PURCHASE LINKS
AMAZON US ➜ https://amzn.to/2TGt6b1
AMAZON UK ➜ https://amzn.to/2TKNCau
INTERNATIONAL ➜ https://smarturl.it/ATTBuy
GOODREADS ➜ http://bit.ly/ATT-GR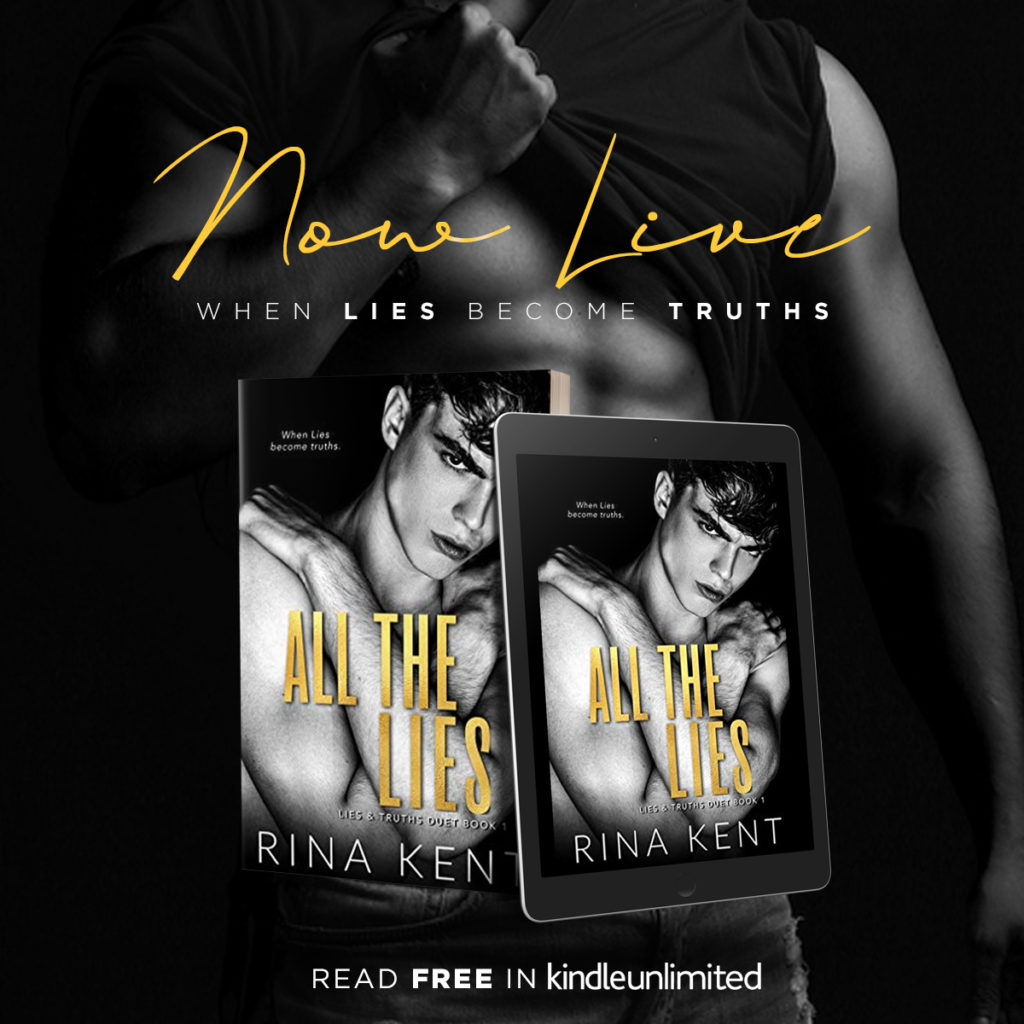 PRE-ORDER ALL THE TRUTHS:
All The Truths, the conclusion of Lies & Truths Duet is releasing on March 23rd. Pre-order today!
AMAZON US ➜ https://amzn.to/39M9veE
AMAZON UK ➜ https://amzn.to/3bYeZou
INTERNATIONAL ➜ https://smarturl.it/ATT-Buy
GOODREADS ➜ http://bit.ly/ATTGR
Jenerated Review
All The Lies

By: Rina Kent
Publication Date: March 12, 2020
Publisher: Rina Kent

Author Website: https://www.rinakent.com/
5 Stars
Rina Kent's All The Lies, book one in her Lies and Truths Duet, brings readers to a place where nothing is what it seems to be.
Asher wore the antihero hat well. Just as he reeled you in he snapped and did something so atrocious that you questioned his appeal. Reina struggled in a world where she had no frame of reference and was held accountable for actions she did not remember because of a amnesia. Full of contradictions the attraction of this couple was steamy even as it was at times brutal to watch play out. This author did an admirable job of leaving readers on the fence with this pair based on the past actions of the heroine and the present actions of the hero.
Rina Kent does plot twist like a champ. Nothing was obvious in her story. One thing readers can be assured of is if they think they are going in the right direction with their assumptions they are most likely going to be proven wrong.  There was a well-maintained tension throughout this work that kept the pages turning at a rapid pace. Ms. Kent manipulated her work like a spider building a complex web captivating her audience and creating lots of unexpected spins. All the Lies will be guaranteed to keep readers guessing and eager for the conclusion of this edge of your seat duet!
*I was given an advanced copy. All opinions expressed are my own. *
*This work is part of a duet and ends on a cliffhanger.*
*Book two of this duet, All The Truths, releases on March 26, 2020.*
EXCERPT
"Why do you hate me so much?" If you do, why the hell are you engaged to me?
"Might have to do with how much of a bitch you are."
"Oh, I'm sorry." I smile. "Did I steal your title, asshole?"
He pauses, head tilting to the side. "What did you just call me?"
"A-S-S-H-O-L-E." I continue smiling, taunting him. "Do you want me to spell it for you again—"
My words cut off when he's at my face, kneeling on the bed in front of me. His hand wraps around my throat like a shackle. He's not squeezing, but the firm grip is enough to restrict my air supply and my thoughts.
A frightening chill forms goose bumps along my skin as I stare at his darkened, merciless eyes.
The sense of bravery I gained a few seconds ago evaporates into thin air. My shoulder blades snap together as if telling me I should be scared.
This is a scary person.
He's fucking terrifying.
The need to run away from him hits me again, clawing under my skin and pumping in my blood.
"You seem to be taking your amnesia game way too seriously, so let me remind you of how it goes." His thumb rubs my jaw like a lover's caress when in fact it's a Grim Reaper's kiss.
It's cold.
Everything about him is freezing.
My pulse roars in my ears like a distant thunderstorm.
He's invading my space like a natural disaster, impossible to stop or prevent.
Still, I manage to choke words out. "You think this is a game? What type of person pretends to have lost their memories?"
"The type who doesn't want people to know what they've done."
"What I've done?"
"Shhh. Don't talk." He presses his thumb to my lips, and I can't help the pulses taking flight under my skin. "When I speak, you listen."
TEASERS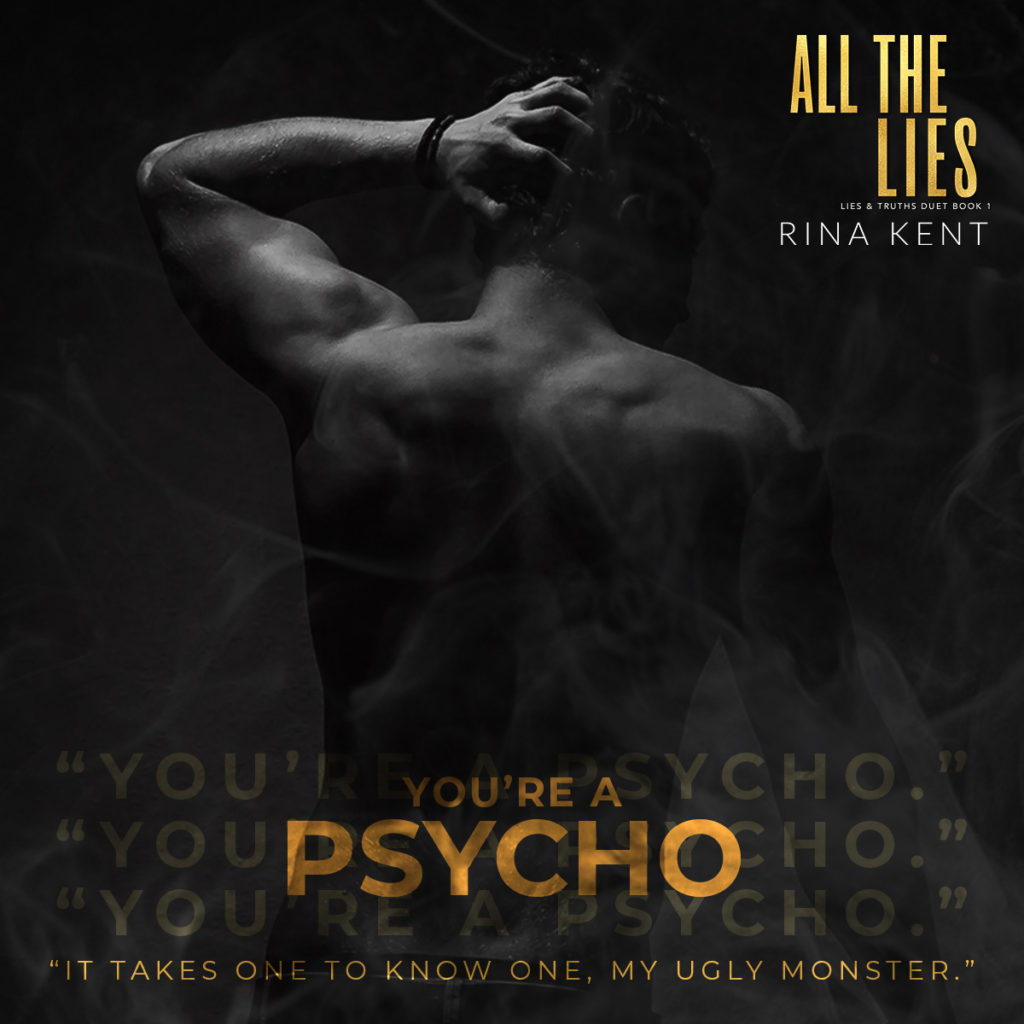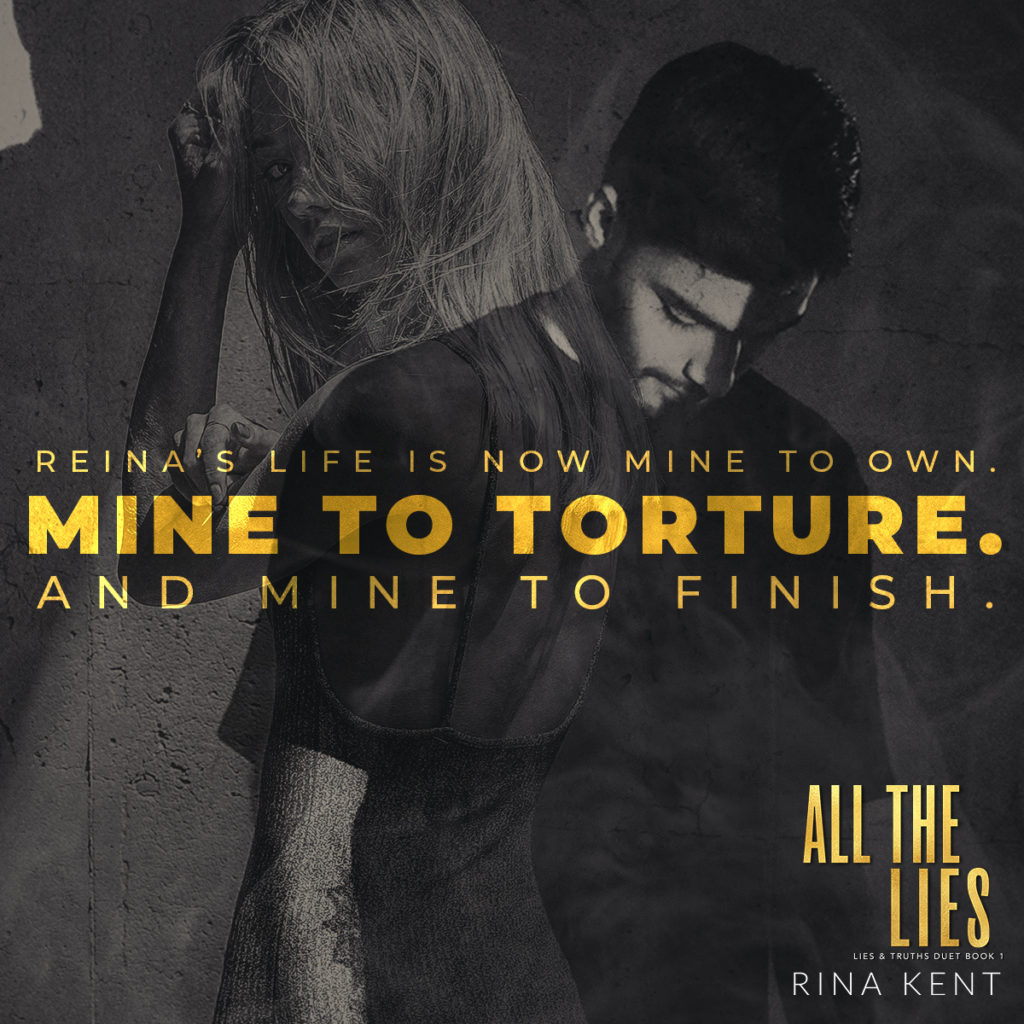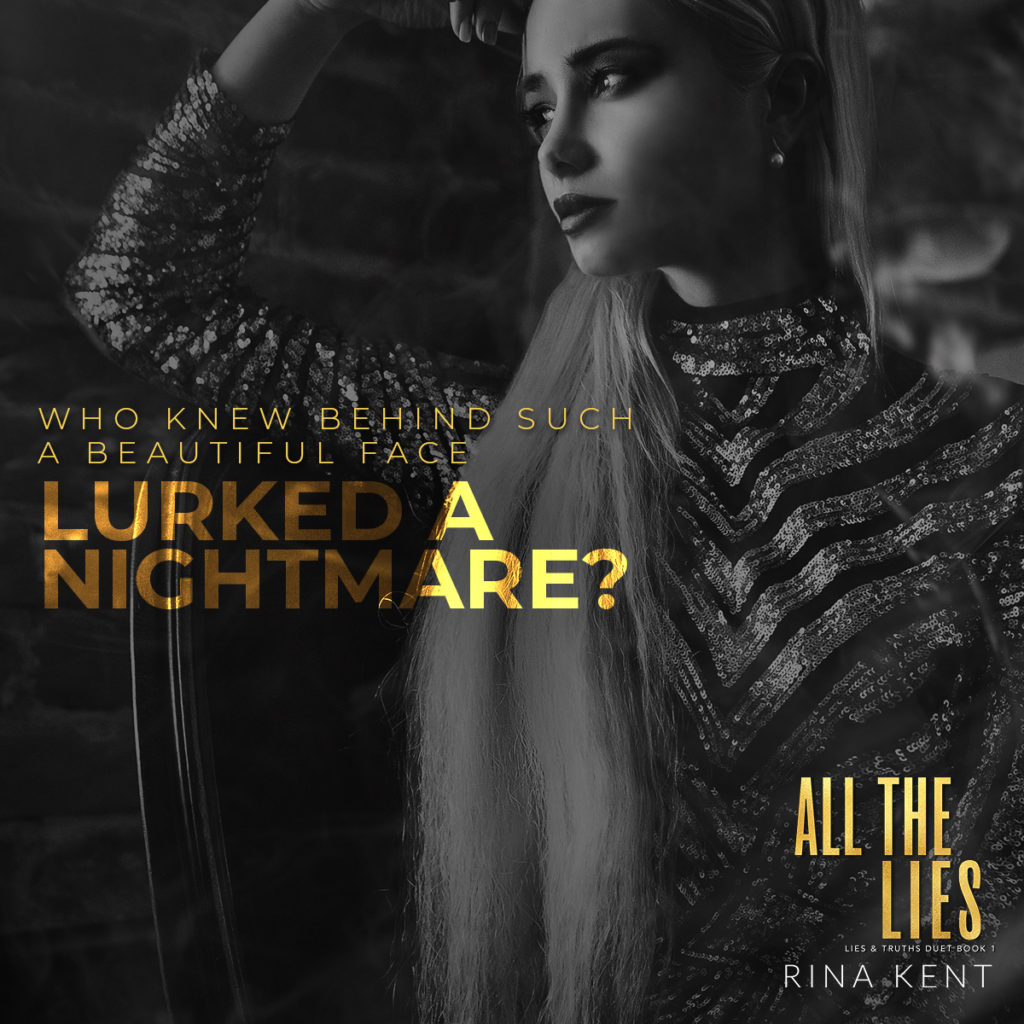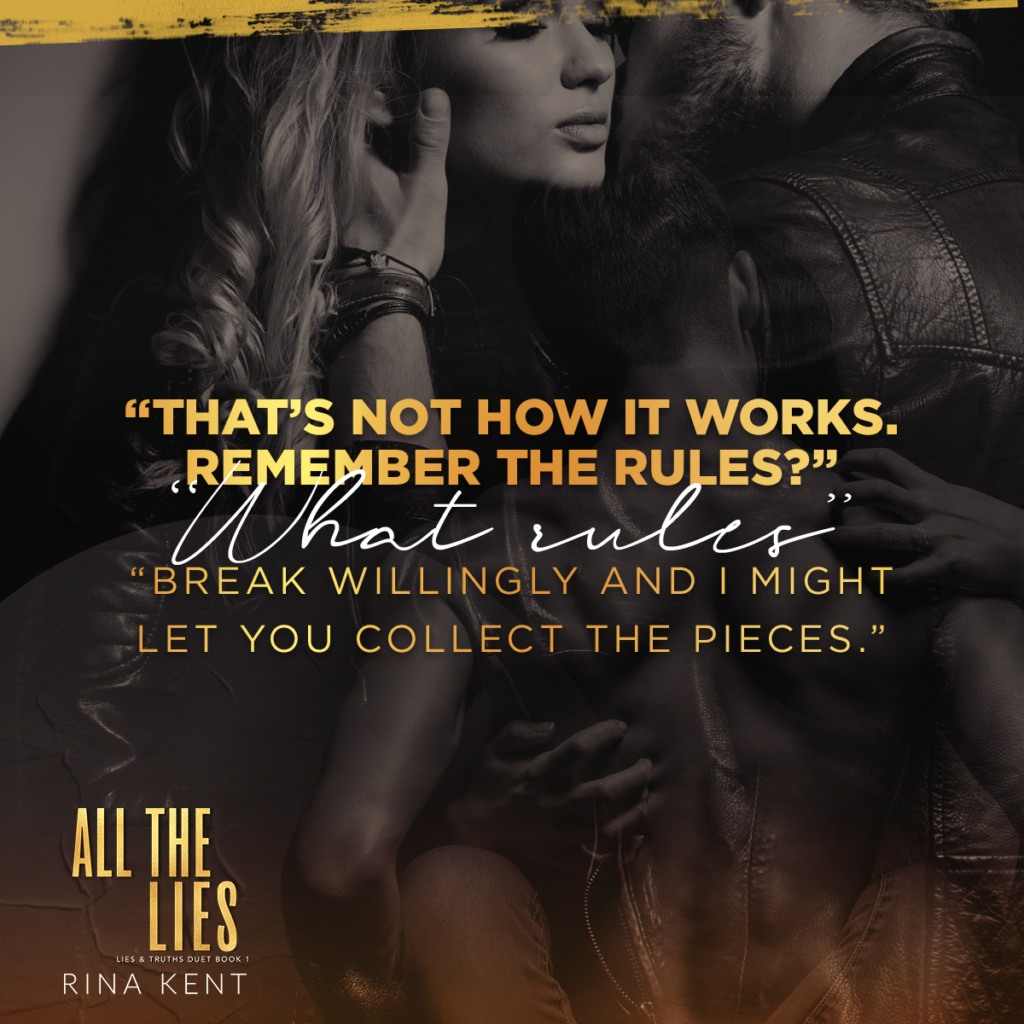 GIVEAWAY:
To celebrate the release of All The Lies, Rina Kent is giving away a $25 Amazon Gift Card. Head to her Facebook page to enter: https://www.facebook.com/rinaakent/
ABOUT THE AUTHOR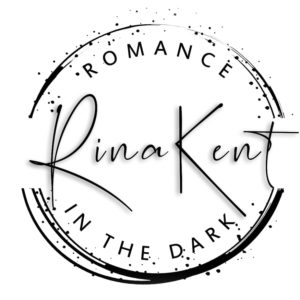 Rina Kent is an international bestselling author of everything enemies to lovers romance.
Darkness is her playground, suspense is her best friend, and twists are her brain's food. However, she likes to think she's a romantic at heart in some way, so don't kill her hopes just yet.
Her heroes are anti-heroes and villains because she was always the weirdo who fell in love with the guys no one roots for. Her books are sprinkled with a touch of mystery, a healthy dose of angst, a pinch of violence, and lots of intense passion.
Rina spends her private days in a peaceful town in North Africa daydreaming about the next plot idea or laughing like an evil mastermind when those ideas come together.
Don't forget to Sign up to Rina Kent's Newsletter for news about future releases and an exclusive gift.
AUTHOR LINKS
Website: https://rinakent.com/
Newsletter: https://www.subscribepage.com/rinakent
Bookbub: http://bit.ly/rina-bookbub
Instagram: http://bit.ly/RinaIG
Facebook: http://bit.ly/RinaFCB
Exclusive Facebook Group: http://bit.ly/RinaGroup
Twitter: http://bit.ly/RinaTwitter
Pinterest: http://bit.ly/RinaPinterest
Goodreads: http://bit.ly/rina-goodreads